MH241T 4-Inch Performance Industrial Printers from TSC Printronix AutoID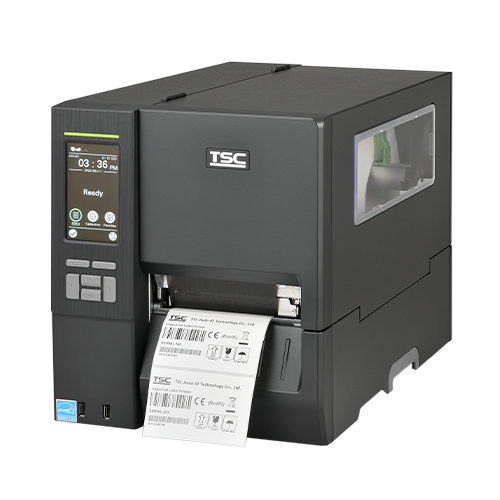 The TSC flagship industrial barcode label printer – MH241T – has superior printhead technology, a fast processor, and memory capacity to print high-quality labels at the fastest speeds- the TSC MH Series. 
MH241T Model Specifics: SIZE: Four-Inch labels. DPI: 203 dpi. MEDIA: TT and DT, Label roll up to 8-inch O.D., Ribbon up to 600m long with the 1-inch core. CASE: Heavy-duty metal construction. Die-cast print mechanism and base. Bi-fold metal cover. Large transparent media view window. AVAILABILITY UPDATE: In stock as of April 21, 2023! Check for current status.
TSC MH241T – Industries and Applications  
Transportation & Logistics – Warehouse & Fulfillment – Manufacturing – Shipping and Logistics
Eighteen MH series printer models are available in the TSC performance industrial printer line. The MH series offers 203 dpi print resolution and print speeds up to 14 ips. 300 dpi resolution delivers up to 12 ips. 600 dpi high-quality resolution on the MH241 runs a bit slower, but it is perfect for printing tiny 2D barcodes, refined graphics, small prints, and various other super-high-resolution images. Multiple resolutions and the ability to print on assorted and diverse labels, ranging from healthcare patient safety, electronics, and jewelry labeling to shipping and distribution labels, make the MH Series ideal for industrial-duty printing.
The MH241 Series is TSC's mainstream industrial barcode label printer built upon the legacy of the MH240 series. It features superior printhead technology, a fast processor, and all the memory customers need to print high-quality labels delivered at the fastest speeds.
Sophisticated TSC Sense Care
The TSC TPH Care Mechanism offers an advanced level of auto-detection, ensuring real-time printhead health status to monitor and prevent down. In addition, the MH241 series supports various media with a pre-printed black mark on the top or bottom sides by the user's selection in the panel menu.
Wide Variety of Industry Language Support
An excellent choice for Zebra replacement. The standard internal language is TSPL-EZD, compatible with EPL, ZPL, ZPL II, and DPL industry languages.
Dynamic Remote Printer Management
SOTI Connect and TSC Console provide enterprise remote printer management on multiple tasks to reduce maintenance costs and avoid downtime of business-critical devices.
MH241T Multi-Connectivity
The MH241 series offers GPIO to support typical applicators and emulation and an optional a/b/g/n/ac 802.11 Wi-Fi with Bluetooth 4.2 combo module.
Highly Adaptable to Various Media
MH241 printers can adapt to various media lengths and widths. With accurate printing positioning, the MH241 and MH241T can peel off a minimum of 0.5-inch length labels. Additionally, the mechanism for fine adjustment to avoid ribbon wrinkled ensures label print quality.
Brilliant User Experience
The MH241T and MH241P can easily adjust the media near-end sensor to detect and remind users to change the media roll on the color GUI display (Media near the end). The MH241 series allows users to easily replace the printhead and platen roller without specific tools.