NeuraLabel Color Label Printers
Your label printing needs may be as few as one label at a time or as many as a batch of thousand. We can offer the perfect printer from NeuraLabel to fit your operational needs. These printers are fast, reliable, easy to use, and economical. The NeuraLabel printers can print highly durable labels that range from widths of 8.5 inches and down to 0.75 inches that can cover any of your product labeling needs.
GHS LABEL PRINTERS
NeuraLabel Callisto  –  High-speed, high-resolution GHS-compliant label printer for in-house, digital color label printing
The new NeuraLabel Callisto color label printer is a high-speed, high-resolution printer. Choose the Callisto for your needs in print-on-demand labels in full color. NeuraLabel builds this powerful machine on the HP PageWide™ great printhead tech. This new Callisto is capable of print speeds up to 18 inches per second. That translates to 98 pages per minute for 11-inch tall pages. Sharp print resolution is up to 2400 x 1200 dpi. Your finished labels will have colors that pop and graphics that look sharp.
The water-resistant pigment inks work on a broad mix of approved label media styles. These are fit for use in any application, including those involving moisture and needing abrasion resistance. The NeuraLabel Callisto can print labels from 1.0 to 12.1 inches in any width. It accepts fan-folded as well as roll-fed media for your maximum performance and flexibility.
NeuraLabel 550e Drum Label Printer
The advanced NeuraLabel 550e label printer is an industrial-class printer for drum labels that provides a 4-color, one-pass solution. The 550e can produce volumes of durable labels for GHS-compliant duties. With an easy-to-use interface, the 550e offers convenient automated media handling automated for the user. Add the easy-to-access consumables, and you have a printer ideal for either the office or the warehouse.
The NeuraLabel 550e can team up with your industry-standard label applications. Access the 550e through your network or with a USB connection. It is a ready upgrade to your ink-based printing systems.
With minimal training, your operator can manage multiple label jobs or even multiple printers. The NeuraLabel 550e printer can store jobs in the printer's memory for simple PC printing or stand-alone printing not reliant on the network. The NeuraLabel 550e GHS Label Printer is dependable and robust. It is compatible with almost any roll-fed or fanfold box-fed labels or media stock.
550e – GHS Drum Label Printer for GHS Compliant Labels
Prints on fanfold drum labels of Letter, Legal and longer lengths

Prints drum labels up to an 8.5-inch width

Stores jobs within printer memory for network-free printing capability

Produces full-color GHS-compliant and BS5609-approved full-color labels on demand

Helps you meet the stringent BS5609 requirements for resistance to abrasion, saltwater immersion, and UV exposure

Provides a Single Pass, 4-Color Laser label printer

Delivers sharp 1200 by 1200 dots-per-inch resolution

Accepts either fan-fold box-feed or roll stock for roll-to-roll production

Generates a 500-label printed roll in under ten minutes

Claims the position as the most robust and easiest to use drum label printer on the market
NeuraLabel Sirius
The NeuraLabel Sirius are affordable and advanced color label printers – a star in the market. It brings the unique and added capability in the Sirius5 of printing WHITE.
White toner allows many more creative options to make your labels perfect. White opens up fantastic new choices for your production or on-demand label media. Choose from clear polyesters, metallic and neon paper, black vellums, and others. Use media that on otherwise, the CMYK does not represent well on transparent or color backgrounds.
For operations that do not need white, the Sirius4 offers only the standard CMYK. Conveniently, each offers a convenient and integrated cutter. This cutter enables Sirius to print only one label or thousands of labels cut at length required.
Tough labels can print on the NeuraLabel Sirius. Need them to withstand water immersion without degradation to the image? Need UV resistance-to-fading so that your eye-catching labels have longevity in direct sunlight? Sirius color label printers deliver it all.
Why Add White to Color Label Printers?
When you use typical white media, the CMYK colors applied can remain bright and vibrant. What happened when the user introduces media with any color? Those colors can appear dull and lose their impact. Add the capability to apply white beneath the exact areas you want to print colors. It allows you to keep a dramatic color on dark media. You can also use white as a design element to expand your creative options.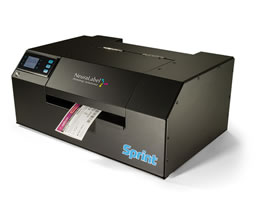 NeuraLabel Sprint
The NeuraLabel Sprint is an excellent solution for your labels and your budget. Sprint can provide short print runs with fine high-resolution full-color print quality. It has a small footprint and provides a great, friendly user interface. 
The Sprint can print from one to thousands of color labels as narrow as 1 inch. Its integrated gap sensors end the need for pre-printed registration marks. In addition, the Sprint includes an optional built-in cutting system to dispense labels in one easy step. All of these can help to reduce your media costs.
Sprint has a metal construction, not plastic, for long life. Finally, it includes an optional media roll unwinder for longer print runs.
Sprint – These could be the most straightforward labels you can print!
High-quality full-color or black-and-white labels

Perfect for legal-size drum labels or as small item 1×1-inch labels

Ideal for printing large volume batches or a single label at a time

Tough chemical-resistant ink great for cleaning and sanitizing products

Spot-in placement of labels due to built-in sensors for label edges

Durable, lightweight aluminum case on a printer built to last

Product of USA – American designed, engineered, and manufactured

Optional roll handling equipment available.